"Our Story" - Mark Wheatley
One of the lives we touched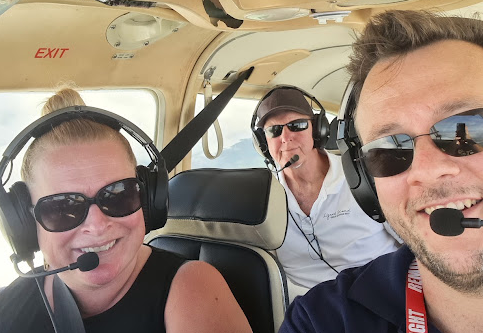 They fly with your support
Mark (patient) had is first flight with Community Flights in May of 2022.
During the devastating Gympie floods in 2022, Mark was going to miss a critical appointment for his cancer clinical trial. Faced with the final option of palliative care for his inoperable tumour, Melanie (Marks wife) reached out desperately to Community Flights on social media and asked if there was any chance they could fly him. (It was a Saturday night, Marks appointment was on the Monday morning). Although we had not yet officially launched, The team jumped into action to make this flight happen!
Fast forward a year, and we're still flying Mark to his life-long therapy. We're so thrilled to know that his quality of life has increased dramatically and his tumour has shrunk from the size of a tennis ball to the size of a gold ball! It's an emotional moment when we realised that all of our effort is changing people's lives more than just by easing the travel burden.
Mark & Melanie send their thank you to all donors, sponsors, volunteers and crew for helping through this challenging time.